Blog Archives
Fall out, one of the big frustrations among eyeshadow lovers.
Maybe some people have no idea what I'm talking about but I think most of you are familiar with it. That nasty eyeshadow that doesn't want to be applied to your eyelids but is determined to make a trip to your cheeks. Some powders just do that…
Loose powders create more fall out than pressed eyeshadow because the pressed version usually doesn't allow you to take too much excess eyeshadow on your brush. But when you dip your brush into a jar of pigment you're suddenly covered in that stuff up to your elbows.
Ok, I'm exaggerating a bit but you know what I mean, right? It's only logical the powder is going to fall off when there's too much on your brush, right?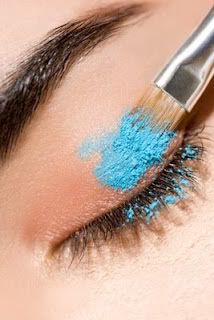 I had to work all easter so I didn't get to do a lot but I had a late shift too and that morning we had a nice over the top breakfast and after that I got to spend some time with my make-up buddies.

I wanted to do something colourful and dramatic and I personally feel I've succeeded. I also did my hair a little different than usual and I liked it a lot. I got a lot of sweet comments on it so I guess I wasn't the only one.